Is Schumacher past it?
By saltire | 28 Oct 2010 |
7 Comments
| 3,620 views
That's the question up for discussion in this week's "Thursday Thought".

In case you're a stranger to Thursday Thoughts I'd better take a moment to explain the principle before I write my answer. Last winter, in the long, cold off-season, someone in the comments at Sidepodcast suggested that it might be fun to pose a question and for individual bloggers to answer that question back on their own blogs. Like all good ideas it quickly took off and many were waiting, keyboards at the ready, to answer the questions posed by the community. Whilst the dreaded off-season isn't quite here yet we thought a little reminder might be in order before we get back into the swing of the regular Thursday question. Think of it as a little taster of what's to come. So, without further ado, onto this weeks' question "Is Schumacher past it?"

Not everyone likes Michael; he's a bit like Marmite, you either love him or hate him and I'm afraid I fall into the former category. It wasn't always so, when I first became engrossed in Formula One in the late 90's I absolutely loathed the guy, but gradually, over the years he won me over with his skill, stunning pace and yes, even his evil genius side too! Like many, I was sad when the rainmeister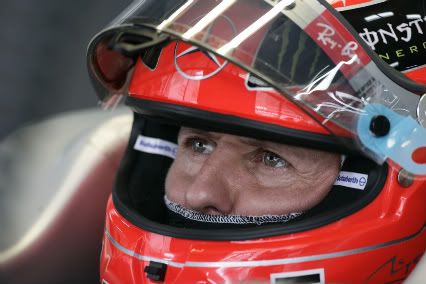 decided to retire but with seven championships to his credit he had nothing left to prove, his place in the history books cemented. So imagine my joy when it was announced that he would fill in for the injured Massa… only for that to be dashed at the last moment because of a neck injury. I pondered what might have been and whether it was right for him to return. If he did and he didn't do well would we only remember the poor performances and forget his outstanding legacy?

"If you take the telemetry data in fast corners or his reaction time when the car breaks away, I don't see any difference. There he's still the old Michael,"
Ross Brawn
With his thirst for competition re-ignited it didn't come as too much a surprise to find that he'd accepted an offer to drive at Mercedes GP for the 2010 season, teaming up once more under the guidance of strategy guru Ross Brawn… and who wouldn't have jumped at the chance? Fresh from winning the 2009 WDC and WCC titles, Brawn had been a guiding hand in all Schumacher's titles and the car can't have been too shabby either could it?

I have to admit that I have been disappointed by his season stats so far, with 17 races gone he has finished ahead of Nico Rosberg on only 5 occasions, and, he's fared even worse in qualifying with Rosberg leading 14:3. There have been flashes of the old Michael and in particular, he has put in reasonably strong performances in the last couple of races where Rosberg has failed to finish. He still has the passion for racing, even though that passion hasn't (thus far) translated into results. You only have to think about his overtaking move on Alonso as the safety car pulled over in Monaco, or his fight with Barrichello for that final point at the Hungaroring (an awful manoeuvre and rightly penalised by a 10 place grid drop) to see that he's still as sharp as ever and ready to pounce on any weakness. Michael is a true racer, just like Lewis and Alonso, a man who's will and determination has not been beaten by poor performance and who isn't ready to sneak quietly into retirement again in another two races. Michael will return again next year I'm sure.

Formula One has changed in the intervening years, where once there was practically unlimited testing there are now severe restrictions on where and when the testing is done. Michael was used to honing his skills with many thousands of km of testing, improving the setup and producing a car that suited his driving style. I'm left feeling that this year's car has not really been to his liking and in the great scheme of things it's certainly not the fastest, being towards the front of the mid-field and fighting for the odd point or two with Williams and Renault.

It's often said that a great driver has out-driven his car, putting it in points scoring positions much higher than it deserves to be. True, based on this season's performance I have to admit he certainly hasn't shone but it doesn't follow that a bad season means you are past it! Heck, Jenson Button is certainly proof of that.

Is the car really that great? We've seen before that Brawn is confident enough to abandon a season's development and come back with a super strong contender the following year (just like he did at Honda, later Brawn GP). The car that Mercedes produces next year will be of an entirely different design, gone will be the double diffusers and KERS will make a comeback, the new tyre supplier will also help to level the field as the new technical regulations kick in. Brawn's designs always employ a bit of lateral thinking and I wouldn't be at all surprised if he and his team come up with an idea that sets them apart from the rest. That, coupled with the changes that Schumacher has undoubtedly suggested will bring the car more towards his liking and we'll really see what he can achieve. In the meantime I'd have to suggest that although we've not got the old Michael back he's certainly far away from being "past it".

This Thursday Thought was posed by Turkey Machine on Twitter.