The Fast and the Fragile
USF1 failed but Hispania, Virgin, Lotus and Sauber (courtesy of USF1's failure) all finally made it to the 2010 grid. However, that was only the start of their difficulties and as they take a break, it's perhaps a good time to reflect on the reliability issues that have hampered their respective seasons so far. They may have had no delusions about the possibility of finishing first, but the other half of the old Formula One mantra: "…first you've got to finish" will be playing heavily on their minds. Tony Fernandes summed it up back in February when asked about his expectations for the season: "Well I would just love to finish every race."

The first observation, from the figure below, is that the rest of the grid hasn't had anywhere near as many reliability troubles as Hispania, Virgin, Lotus and Sauber. With an average of 89% of laps competed, including Ferrari with an impressive 99.8%, the four at the bottom of the pitlane have a lot to live up to that isn't explained by being several laps behind the leader when they do finish.

Looking in more detail, Sauber have had their well documented misfortunes with the Ferrari engines, and Pedro de la Rosa is well into the lifetime of his seventh of eight allocated engines and facing grid penalties later in the season. However, one of the few pieces of equipment that the new teams have been able to rely on has been the Cosworth engine, and other than Sakon Yamamoto accidentally shutting his down, they've caused few issues. Gear boxes, on the other hand, are a different story – the most unfortunate being Heikki Kovalainen who failed to even start the race in Spain after electronic issues with his gear selection.

.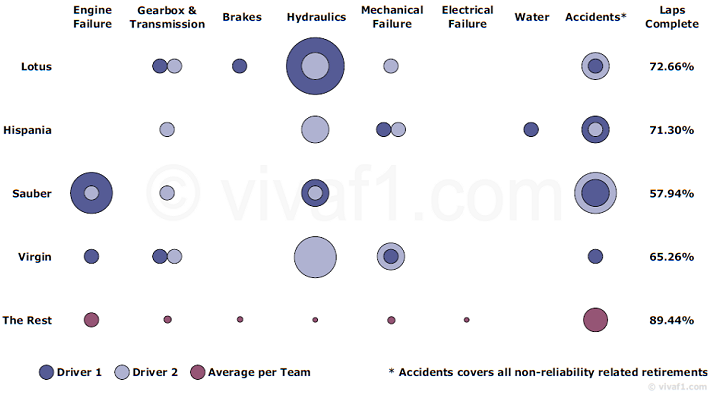 Overshadowing all other problems, though, has been the cars' hydraulic systems, with all four teams suffering a significant number of complications. In fact, from the rest of the grid, only Toro Rosso have had to retire a car due to the hydraulics. Above all, it has been the new teams' biggest reliability weakness and while the attention has been on Virgin's all-CFD aerodynamic design, it has been more fundamental problems that have been costly.

Perhaps surprisingly given the number of inexperienced drivers at the back of the grid, as well has having to deal with being passed by lapping cars 60-70 times a race, the new three new teams have suffered a similar number of accidents and collisions as the rest of the grid. Not that the same can quite be said of de la Rosa and Kobayashi.

Nobody said it was going to be easy for Virgin, Hispania and Lotus when they joined the Formula One circus, nor will it be for the thirteenth team when the FIA eventually get around to choosing one. It's clear, however, that pace isn't the only thing they're lacking and if one of the three new teams are going to steal some points this year, they need to make sure they're around at the chequered flag to do so.

Notes: The figure represents the number of retirements for the three new teams along with Sauber. Sauber are included because they've had a similarly problematic season, indeed they have completed the fewest number of laps of any team, just 58% between their two drivers. The area of the circle is representative of the number of each type of failure for each driver. For comparison, the rest of the pit lane is summarised along the bottom, with the total number of failures averaged across the eight other teams. More details about the individual teams can be found in the Statistics pages.

Home page photo © Virgin Racing