Bloggers Swap Shop
Those of you of a certain age will fondly remember Noel Edmonds and the Saturday Swap Shop Children's TV program. The premise was simple; children with toys and games they no longer wanted would write in to say they wanted to swap their Barbie doll for a Monopoly game or other goodie that took their fancy, the TV staff then arranged for the participants to exchange their games and everyone was happy. Since imitation is the sincerest form of flattery I thought it could be good fun to reprise the game but instead of swapping toys and games we could swap opinions and blog posts in a Bloggers Swap Shop.

So how would it work?
To make the idea work we will need two groups, "bloggers" willing to write an F1 or motorsports related blog post, and "hosts" who are willing to host a guest post on their website or blog.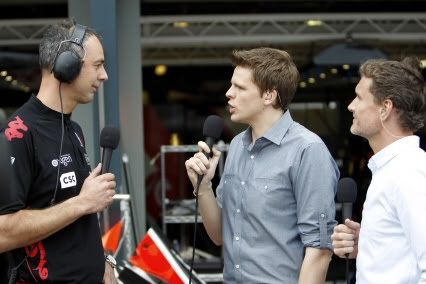 What I'd like you to do is decide which category you fall into (or maybe you would like to write for another blog and host a guest post, that's fine too) and then leave a response in the comments below. Once we have an idea of the numbers of people willing to play we can sort out a list of who will blog and details of the site chosen to host the blog.

Don't worry if you can't host someone else's post but you would still like to write and have your work on view to the blogging community, I'm sure there will be plenty of people looking for fresh interesting content during the F1 summer break.

What's in it for the host blog?
Who doesn't want fresh new content for their blog and the chance to get new readers? What have you got to lose?

What's in it for the blogger?
Whether you are an established blogger or someone who's thinking of writing for the first time it's a chance to highlight your work to a wider audience and have it read by people who may not have had the chance to see your work before. If you are new to blogging, it gives you a chance to try blogging and see if you like it, you never know you might just get bitten by the bug and start your own blog.

Rules, what rules!
Just add a comment below and details of whether you are willing to write, host or both. If you could comment by Friday (6th August) at 12 noon UK time I'll organise the list in time for the evening so you will have plenty of time to dream up ideas for posting the following weekend. I'd like to limit the posts to those about F1 or other motorsport so please don't offer to write about other topics as I wouldn't be able to find suitable hosts. Oh, and one last point, we'd like all work to be original so please don't post something you or someone else has published elsewhere. That's all there is to it!

Any questions?
Drop a note in the comments below or email admin@vivaf1.com

Image © Virgin Racing