Red Bull The Team To Beat?
Despite Ferrari coming away from Bahrain with a maximum points haul, it has been Red Bull who have been playing on the minds of the top teams. Lewis Hamilton mused the possibility of Mark Webber retiring (although you have to wonder what the question posed to him was) while Ron Dennis made some cryptic remarks about Sebastian Vettel's engine problems in Bahrain but it is the question of Red Bull's pace that is most interesting, not least because Ferrari have also jumped on this particular bandwagon.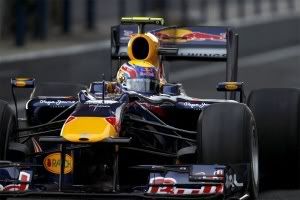 "I think maybe performance-wise maybe Red Bull is a bit ahead of everybody now, which is not a surprise because they finished 2009 very strongly, so they kept the momentum"
Fernando Alonso
"The Red Bull is ridiculously faster than anyone else's car. It's insane… They should be quite a lot further ahead in general."
Lewis Hamilton
The general consensus from observers was that Ferrari and Red Bull were pretty closely matched in qualifying trim and Ferrari probably had the edge over a race distance as The Scuderia better preserved its tyres. So why all the platitudes for Red Bull? Lewis Hamilton even went as far as suggesting that Red Bull were a good half a second quicker than Ferrari and while Ferrari haven't bandied around any numbers, the general message coming from the Italians is that they are part of a McLaren-Ferrari-Mercedes group trying to catch up with Red Bull.

We're only one race down, and the Red Bull performance was hardly of Brawn GP proportions but are the Austrians really miles ahead of the opposition? Fix the reliability issues and will we see one team dominate?

Or is all this perhaps just linked to Renault's desire to equalise engine power?