Lotus Launch the T127
The second of the new teams, and the eleventh overall, Lotus F1 Racing have joined the party with the T127. Unveiled in London, the car carries the classic Lotus colours of (almost) British Racing Green with gold stripe down the centre despite the current team actually being Malaysian.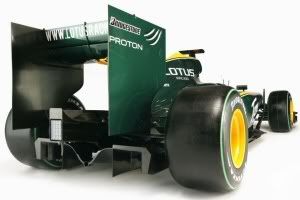 The big surprise is probably how complex and 'finished' the front wing looks – contrast that with the rather stubby nose which now seems a bit dated. In fact, beyond the front wing, the T127 is a rather conservative design.
"This one is very special for me personally for two reasons – firstly the Lotus name coming back into F1 is something very special. But also it is the challenge of bringing a new team and a new car into F1 in such a short space of time."
Mike Gascoyne
Despite being heavily undercut, the sidepods are a very simple design, with a 'boxy', horizontal upper surface without the tightly-packaged, tapering designs seen on others including Virgin. Even the raised cockpit sides are very utilitarian, sticking to the letter of the law. The sidepods also feature exceptionally large inlets too, perhaps indicating a lack of confidence in the team's ability to handle cooling requirements – of course, the old mantra about first finishing is still important.

The rear wing is supported entirely on the endplates, but again, the endplates are very simple with none of the cutaways that everyone else employs. However, the T127 does feature a relatively large double diffuser, which should sit it in good stead.

The T127 in one word: "conservative" but then with less development time than anyone else that is not surprising. The main thing is that it is a good base point on which the team can grow.
.
.
Click thumbnails for large images | images courtesy of Lotus F1 Racing