Force India Unwrap the VJM03
The VJM03 is here although the message from Force India is more one of progressive change than aggressive redesign. Even the livery is little changed from last year, with the patriotic orange, white and green retained. Perhaps that is not surprising given the team's turn of speed on the high speed circuits of Monza and Spa. Still, there are a number of significant changes ahead of testing in Jerez this week.

At the front, more streamlined uprights rise up to meet a nose that is slightly deeper than last years. The tip is similarly located but the upper and lower surfaces both bow outwards more to produce a more bulbous nose. This has resulted in the suspension being mounted higher.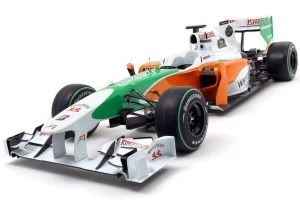 The front camera mounts have also been moved backwards to the point that they're not visible in a side on view, and presumably help to act as flow conditioners for airflow coming off the front wing.
"The VJM03 is definitely an evolution of the VJM02 in terms of the design philosophies we have developed at Force India over the last year. We are very happy with the direction, therefore we have opted to evolve the car rather than significantly revise."
Mark Smith, Design Director
The sidepod inlets are very similar to the VJM02, however, the team have switched to outboard mirrors mounted on the sidepod wings. This has freed up space around the serrated fins that were introduced on the side of the cockpit late last year. The sidepods are relatively low lying compared with the opposition although featuring a significant undercut.

The airbox is narrower than on last year's car, and the structure is opened up similar to McLaren. The rear of the car is more shaped than the VJM02 and in the launch shots at least, sporting a shark fin which Force India adopted late last season. There also appears to be a vent on the ridge of the engine cover just where the shark fin starts. For now, the team are keeping the rear diffuser hidden but the rear crash structure hints at a high but relatively narrow diffuser.

Force India sprang a bit of a surprise last year but with potentially the best engine on the grid, can they continue their climb up the standings?

Note: in the comparison picture below, the two images are taken at different angles and do not provide a good comparison of wheelbase.
.
.
Click thumbnails for large images | images courtesy of Force India Formula One