Red Bull RB6 Revealed
Adrian Newey's RB5 has acted as inspiration to many of the team's 2010 designs therefore it was little surprise that the RB6 itself should follow the lead of its elder sibling. 2010 sees the team's first chance to design around a larger, two-tier diffuser, which the team found difficult to package last year. However, despite that, the RB6 continues the RB5's low-ended design philosophy with even the rear pull rod suspension retained.

While Newey's 'V'-nose concept has been taken on by several others this year, the RB6 has taken it a step further, raising the ridges even higher giving the impression of raising the nose. However, from there backwards it's very much the 2009 car, all be it extended to incorporate the larger fuel tank, with the sidepods and engine cover "borrowed" from the RB5. In fact, it is such a derivative of the RB5 that it makes you wonder why the team needed an extra week to prepare.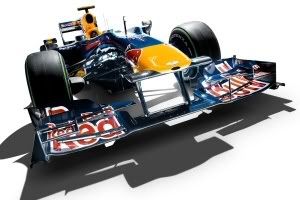 The changes are instead subtle: the rear suspension is still high and a pull rod configuration but the gearbox has been moved, presumably to allow a larger diffuser; the dorsal fin is retained but with an even larger surface area as it extends back to the rear wing.
"The car is very much an evolution of the 2009 car – there is a big family likeness. We tried to refine and evolve it rather than go to new concepts. As such, the car looks similar with elements such as the chassis and pull-rod rear suspension retained."
Adrian Newey
So it seems that while others have been copying the RB5, Red Bull have concentrated predominantly on the diffuser, and they're keeping quiet about that for the moment. Until we see that, we won't see the real RB6.
.
.
Click thumbnails for large images | images courtesy of Red Bull Racing