Virgin Unveil the VR-01
Virgin Racing's virtual launch didn't exactly go to plan (see end of article) but the resulting car is a very sleek combination of black and red – 2010 is shaping up to be a very colourful grid. The ground-breaking VR-01 will be the centre of much attention through the coming season as it is the first Formula 1 car to be designed relying entirely on CFD. However, it still takes plenty of inspiration from the opposition.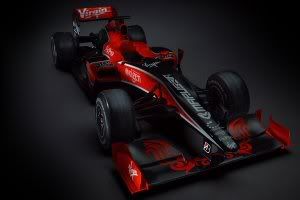 "I have absolute belief in the digital design process and the opportunity to put the all-CFD approach to the test at the highest level – to demonstrate that this could be the way for the future of F1 – is very, very exciting." Nick Wirth
The VR-01 features a long, tapered nose rising up to a short section that follow's Adrian Newey's trend setting 'V'-nose concept although it sits much lower than on most of the other 2010 cars to have broke cover so far. On the images released so far, the front wing is very basic and it remains to be seen how much it will have been developed prior to the season opening race in Bahrain. Despite a relatively low nose, the front suspension is very low lying, employing a single-keel.

The sidepods are fairly conventional, without the tight packaging we have seen on several of this year's cars, although employing relatively small, rectangular openings similar to the McLaren MP4-25.

Overall, though, a very simple design as may be expected from a new team. The VR-01 takes to the track at Silverstone for a shakedown over the next two days with the team intending to be at the second group test at Jerez on 10th February.
.
Click thumbnails for large images | images courtesy of Virgin Racing