Toro Rosso's TR5 Tests
Scuderia Toro Rosso unveiled the TR5, the first car that the team has designed itself as it establishes itself as a constructor in its own right. However, the car's ancestry is still visible, with more than a hint of last year's Red Bull RB5. That's not surprising given the size of the team working on the car.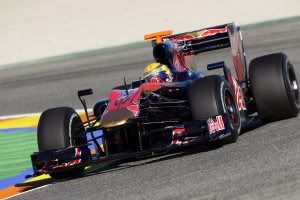 "2010 is a landmark year for Scuderia Toro Rosso as the new regulations demand that we go it alone in terms of designing and building our car in-house. After four years of working in collaboration with Red Bull Technology, the TR5 is the first car that is one hundred percent down to our own endeavours." Franz Tost
The car features the fully updated diffuser that Red Bull were enjoying by the end of the year but the rear of the car remains largely unchanged in form. However, there is a sharper nose than Red Bull had been using. It's a start but it remains to be seen where the team goes from here.

Being recognised as a Constructor involves owning the intellectual property rights to what are defined as the listed parts: the monocoque, all the safety structures that are subject crash testing such as the front, rear and roll-over structures as well as the complete aerodynamic package, suspension system, fuel and cooling systems.
.
.
Click thumbnails for large images | images courtesy of Scuderia Toro Rosso